Access Control & Surveillance
Traditional security systems for your property can still be an important part of protecting your family and assets but access control and surveillance are the new technological core by:
Controlling who has access to your premises (eg. access control) and
Being able to monitor real time what is happening at your home or business (eg. surveillance).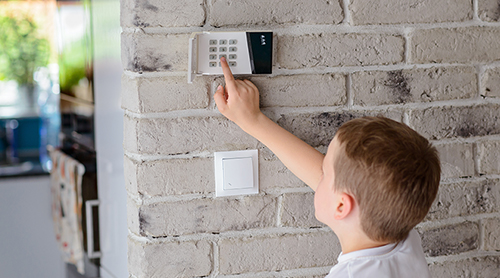 New intelligent cloud technologies enable control of access to your home or business from anywhere – without worrying about issuing badges, key fobs, or pins for keypad.  Imagine controlling access to any door by authorizing someone's phone;  this means you can grant a visitor temporary access with a link on their phone.  Eliminating access cards, fobs, and keys that tend to wander will make your environment safer.  And, this new technology is even touchless – for a new dimension of personal safety.    
Advanced imaging and analytics technologies for video cameras are now affordable for both homes and businesses.  Artificial intelligence can identify people and objects, read license plates and even help you see color at night.  This means you can setup virtual perimeters around your property and be notified when they are crossed rather than building expensive walls.  You can even use facial recognition to prevent time clock abuse or enable your young children to arm/disarm your security system without having to remember a code.
Measure body temperature or object temperatures with the cameras and, of course, view the image feeds from anywhere with an internet connection.
Let Intelligent Systems help you get the most of the new technology to optimize your safety and simplify your life and workflows.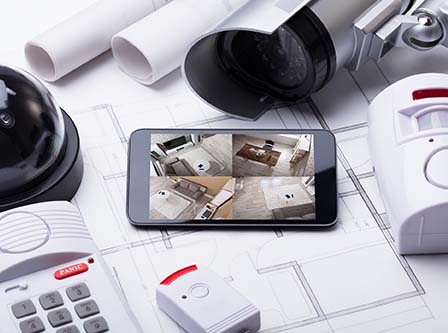 Traditional security systems can still be a viable component to protecting your home or business but it's time to utilize systems that rely on the latest technologies:
Color touchscreens and better user interfaces enable ease of use and improved data sharing (and they just look better than the old keypads)
Cloud-based connectivity permits control and monitoring from anywhere
Reliable wireless devices and sensors are now available to make retrofits easier
Integration with other control systems simplify the app madness
Intelligent Systems can help you determine if you even need a traditional security system to monitor your doors and windows or if you can use other Internet-of-Things devices to give the same info for less. 
LED lighting technology gives you so many benefits for your home or business in terms of aesthetics, safety, control and cost vs traditional lighting.  With some engineering and design expertise – you can create lighting scenes in any color temperature with nearly unlimited creativity.  Back-light surfaces, define living areas, run lighting automation when certain people enter, optimize work lighting for employees – the possibilities are incredible.  We also offer window and door shades with automation and control system capability.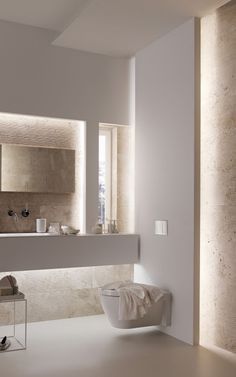 Intelligent Systems offers a proven, accurate and portable thermal imaging system to measure body temperature within +/- 0.3 C in real time. Keep your employees and business safe by identifying individuals with fever – without direct contact.
The Camera System uses decades-old thermal imaging technology combined with sophisticated AI algorithms to measure body temperature without contact, with high accuracy, and fast measurement time.
How does it work?
The key to accuracy is a reference temperature device called a "blackbody" – which emits a constant thermal image temp to maintain continuous camera calibration. The User sets an alarm trigger level and the system provides both audible and visual alarms when temperature exceeds threshold. Subjects then pass through the target area (which is about 5'X10') and body temperatures from multiple skin locations are measured against the reference (glasses, helmets, masks, hats are all okay).
COMPLETE STANDALONE SOLUTION (NETWORK OPTIONAL)
While the system can be connected to a network for additional safety features (such as facial recognition and data backup) it will operate without a network connection—just power the devices using standard 110V AC.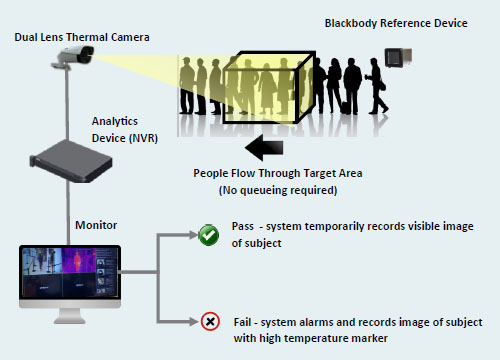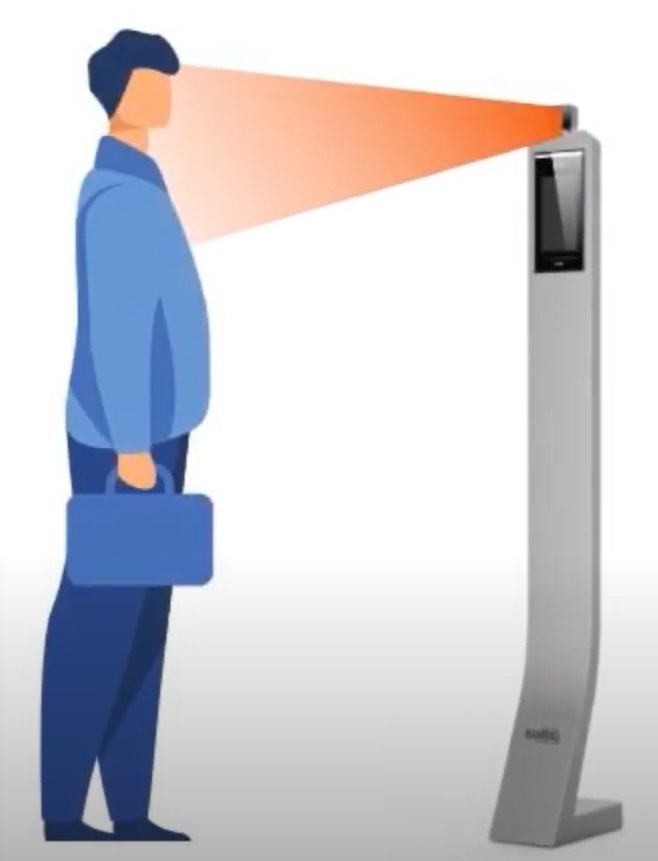 Kiosk Temperature Monitoring Solution
What is it?
• Tablet-based system mounted on floor or desk stand
• Uses a dual lens camera along with sophisticated artificial intelligent algorithms to measure skin temperature
• +/- 0.9 degrees Fahrenheit accuracy without contact up to distances of approximately 6 feet
How does it work?
• Subjects approach and queue at the kiosk and maneuver their head into the camera frame. Subjects will be given audible and visual pass/fail alarms for the temperature screen.
• Capable of detecting whether a mask is being worn and can send signals for access control.
• Can be connected to a network for additional safety features such as facial recognition and data backup.
• Can operate without a network connection using standard 110V AC.
View our Kiosk: Kiosk Quick Scan Trimmed
Our access control & surveillance Partners

intelligent systems in the news
IU Health adds technology to detect fever upon arrival
Intelligent Systems installed new thermal cameras and an optical system at IU Health Simon Cancer Center. The systms can scan your forehead for a fever as soon as you walk in the door.
Read more: www.wthr.com